What better perk-me-up that super fresh tuna and avocado in an umami-rich sauce? Tuna Poke-Style on a pillow of diced avocado always makes me smile.  But we only eat it when the tuna is impeccably fresh. And I have never made it for more than just the two of us. 
Fresh tuna is that rare treat we only purchase from a sustainable source. In the Northeast, wild-caught Atlantic yellow-fin tuna or ahi, which we often get from our fish CSA, is considered sustainable. 
The preparation is straightforward. Dice the fish. Dice ripe avocado. Dress and assemble. You can prep the components several hours ahead of time. Be sure to keep the ingredients thoroughly chilled though. This preserves the flavor and freshness.
There are only a few unusual ingredients and easy-to-find substitutes. Sancho pepper comes from the Japanese prickly ash tree.  Its flavor is both hot-spicy and slightly citrusy.  Black pepper works well in its place. 
I like to serve tuna poke with shrimp chips. You can buy them at Asian markets such as A Dong Supermarket and deep-fry them yourself. (We prefer Sa Giang brand.) Or serve this dish with any thin rice cracker found in the snack aisle.
If you prefer not to fuss and if you live anywhere near Portland, Maine or Boston, Massachusetts, you might consider a meal at Eventide Oyster Company.  I devoured a plate of their Bigeye Tuna Crudo there recently. It was perfect.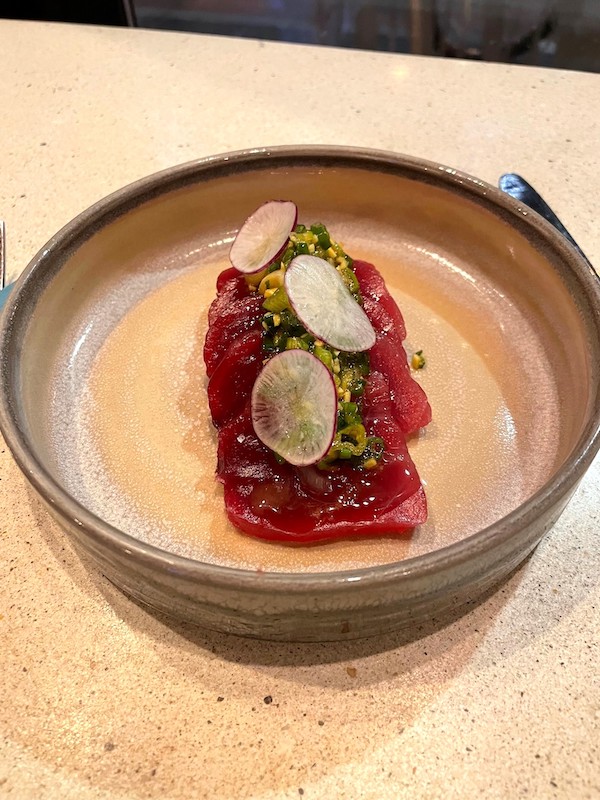 Kitchen Notebook
Although we have ring molds for making this dish, you can use a tuna can with its top and bottom removed as a form for the diced avocado and tuna.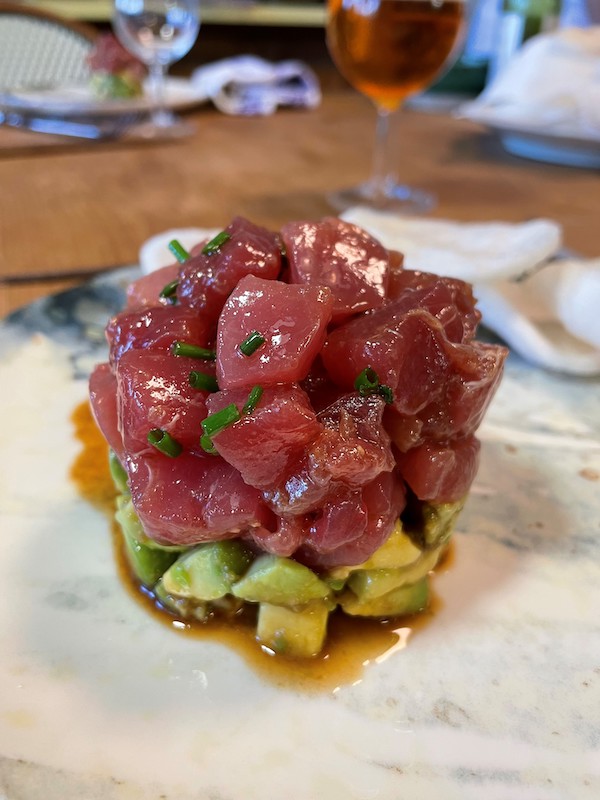 Rinsing cut avocado with water helps keep it from browning. No need for lemon or lime juice.
Ingredients
10 – 12 ounces fresh sushi-grade tuna
1 ripe avocado
Juice of 1 lime
½ teaspoon chopped garlic
Salt and sancho or black pepper to taste
2 Tablespoons tamari or soy sauce
1 teaspoon roasted sesame oil
½ teaspoon grated fresh ginger
chopped fresh chives or scallions, for garnish, optional
sesame seeds, for garnish, optiona
Directions
Chill two plates.
Working on a clean cutting board with a sharp knife, trim any skin or sinew from the tuna. Cut the cleaned piece of tuna into neat cubes, approximately ¾-inch square. Refrigerate until ready to serve.
Split, pit and peel the avocado. Rinse it under cold water. Dry the pieces off on paper towels. Then cut each half into ¾-inch cubes.
Toss the cubes of avocado with the lime juice and garlic. Season with salt and sancho pepper. Refrigerate until ready to serve.
Whisk together the tamari, sesame oil and ginger. Fold in the cubed tuna. Refrigerate for 45 minutes.
Lightly oil a 2-inch x 2-inch ring mold. Position it in the center of a chilled serving plate. Spoon half of the avocado mixture into the bottom of the mold. Press down to pack it into an even layer.
Spoon half of the tuna mixture on top of the avocado in the mold. Press down to pack it into an even layer.
Carefully remove the ring without toppling the avocado and tuna mixtures. Place on the second chilled plate and and repeat.
Scatter any leftover tuna on top of each serving. Sprinkle with chopped chives, sesame seeds and more sancho pepper. Serve immediately with shrimp chips or rice crackers.
© Priscilla Martel – Living a Flavorful Life. https://priscillamartel.com